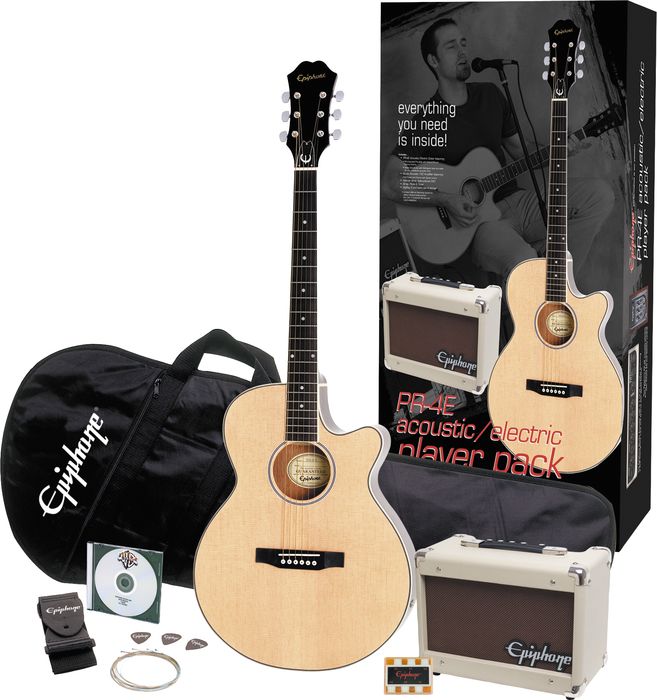 Epiphone Pr-4E Acoustic-Electric Guitar Player Pack Natural
Epiphone SST Studio Solidbody Cutaway Acoustic Electric Guitar

The Epiphone SST Studio Acoustic Electric Guitar will add fashion to your playing. Check this hot number out. A solid body acoustic/electric guitar with an awsome ebony finish on a chambered Mahogany body with a Spruce top. The SST gives you great accoustic sound without the feedback so common with traditional acoustic guitars. You will have no problems playing the lead or just sitting back and comping chords.


Epiphone EJ160E John Lennon Acoustic Electric Guitar

The Epiphone EJ160E John Lennon is a unique instrument with the foundation of a great advanced jumbo mahogany-body, solid spruce-top acoustic guitar. It has all the warm, punchy tone that is the hallmark of that type of acoustic guitar design.


Epiphone EJ200CE Jumbo Cutaway Acoustic Electric Guitar

The Epiphone EJ200CE is an acoustic electric version of the EJ200m a striking jumbo-body acoustic guitar, featuring ornate inlays and decoration, with a maple body and a spruce top - and a cutaway! Its larger body produces very balanced tone and even more resonance than a dreadnought.


Epiphone DR200CE Acoustic Electric Guitar